How to analyze Windows BlueScreen of Death (BSOD)
In this post I will introduce you to a great little free tool called WhoCrached. WhoCrashed is a great tool I recently came across looking for a solution to a problem I had. What this program can do is to analyze the dump files created by Windows when it crash making a Blue Screen of Death (BSOD), and tells you where to look in order to fix the issue so it don't happens again.
What cause Windows to BlueScreen of Death?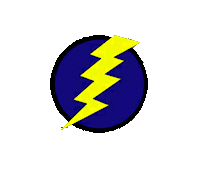 Most of the time you will see a BlueScreen of Death it is caused by a bad device driver or defect hardware in your computer. The BlueScreen of Death can be very frustrating, because it is shutting down Windows without any warnings, but in fact it is in order to protect our computers. The causes to BSOD can be e.g. a bad driver for a USB hub, an old printer driver that are not actually supported or bad memory.
Analyzing BSOD dump files with WhoCrashed
The program is very easy to use. You start the program and click on the green Analyze button. The program then start looking for dump files in the c:\windows\ and c:\windows\minidump\ folders. It then analyze the dump files found and create a report for you (Check the report Tab).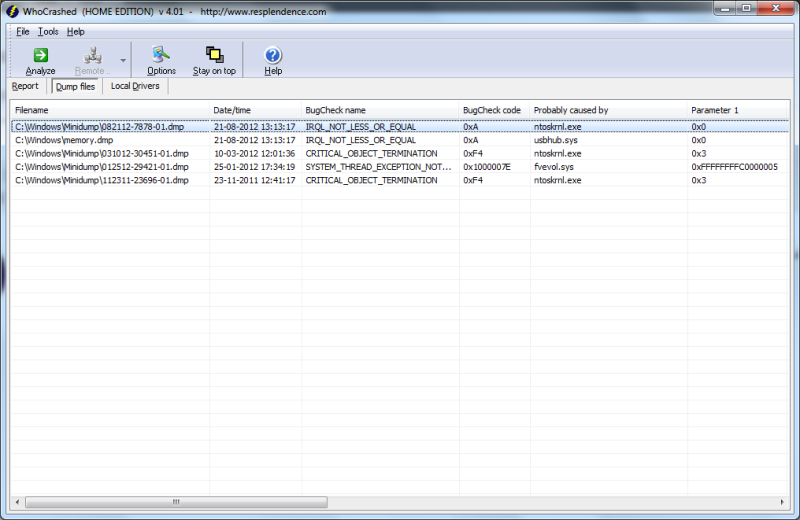 WhoCrashed does not fix the issue of BSOD for you, but it can tell you what driver you might need to update or disable in order to make your computer run stable again. Below is a little sample of properly causes to BSOD on my test machine. the ntoskrnl.exe can be tricky to figure out, but the 2 sys files is something that I have a change to figure out and fix with a driver update.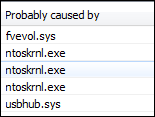 Professional Edition of WhoCrashed
---
If you need more features you can get the professional edition of WhoCrashed that offers the following additional features over the Home edition:

Crash dump analysis on remote computers on the network
Crash dump analysis of a local dump directory of your choice
More detailed analysis of crash dumps
Detailed dump information views
Uptime reports
Kernel stack traces with symbol resolution
Viewing list of loaded modules at the time of a crash dump
Symbol server and local symbol store support
Options to fine tune the behavior of WhoCrashed
I hope that you found this post informative and maybe want to try out WhoCrashed. I would love if you will leave me a comment about what you think about this software and maybe share some of your own BSOD experiences with me and my readers.