How to invite your Friends to Like your Facebook Page?
Back in August 2012 I created my Facebook Page for Techwork.dk. I have never been a big fan of Facebook for a lot of reasons, but I thought it would be a good way to promote my blog and maybe drive a little bit extra traffic to my blog. Everybody speaks about how great and important Social Media is for link building. I had been in Twitter for a long time and it is beginning to pay off now that I have more than 600 followers. After creating my Facebook Page I quickly found that having a Facebook Page without having a regular Facebook Profile is not much fun.

The difference between a Facebook Page and a Facebook Profile
One of the first things I found out is that your Facebook Page can't have any friends. There is also a lot of apps and plug-ins that does not work with a Facebook Page account. To make it simple a Facebook Profile is for an individual person and a Facebook Page is for a brands, companies, organizations and celebrities.
How to invite your Friends to Like your Facebook Page
After a couple of months I found that I had a lot of friends on my Facebook Profile (most of them people I know from Twitter), but only like 5 Likes on my Facebook Page. I have found it very difficult to get people to like my Facebook Page that was my goal in the first place. Then one day not long ago I received an invite from Ayngelina Brogan from Bacon is Magic. She asked me to like a new Facebook Page she had created. Ayngelina travel a lot in Latin America and shares some great photos on her blog. If you have not already visit Bacon is Magic you should go and check it out. Just the name of the blog makes you want to check it out right? 🙂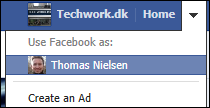 Well back to the subject of this post. I made a little search on Google to figure out how Ayngelina had invited me from her new Facebook Page. I found that if I logged in to my Facebook Page, but as my Facebook Profile I would have the option to invite the friends from my profile to like my Facebook Page. This is how it is done: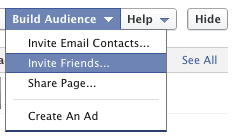 Just click on the Build Audience button and then Invite Friends. Select the friends you want to invite and click Submit. You can also invite Friends by E-mail if you prefer that. Still being new to Facebook I was wondering if this action would be considered spam by my friends, but within only 2 days pretty much half of all my friends have liked my Facebook Page 🙂 I thought this was a nice little tips worth sharing with other people that are struggling with their Facebook Pages.
How about you? Have you invited your friends to like your Facebook Page? I would love if you would share this post and maybe leave me a comment below. You are also very welcome to share other Facebook tips with me and my readers in the comment section below.