My Google Analytics Traffic Report for Q3 2013
This report might a bit late (about a month), but I still hope that you find it interesting to see what brings traffic to my blog and maybe share your own traffic experiences with me in the comment section. I am still struggling to get some of my lost Google traffic back, but it seems like an impossible task. The big changes Google made back in May 2013 with the Google Penguin 2.0 update cost me half my traffic and it looks like I am pretty much stuck at that level. I still have no clue why Google from one day to another dropped my ranking that much, but I guess that I have to live with that.
My Google Analytics Stats for Q3 2013
Traffic Types:
As you can see, my traffic from Search Engines is below 50% meaning that I am not that vulnerable to changes in Search ranking.
Search Engines:
Google: 89.54%
Bing: 5.90%
Yahoo: 3.56%
Google is still the "King of Search" and Bing and Yahoo is tailing long behind.
Top 5 Referring Sites:
Stumbleupon.com
Himanshunegi.in
Social.technet.microsoft.com
T.CO (Twitter)
Urlopener.com
Urlopener.com is new at spot 5, but other than that my top 5 sites is the same when it comes to referring sites.
Top 10 visitors by Country:
My top 10 visitors in traffic ordered by geographic.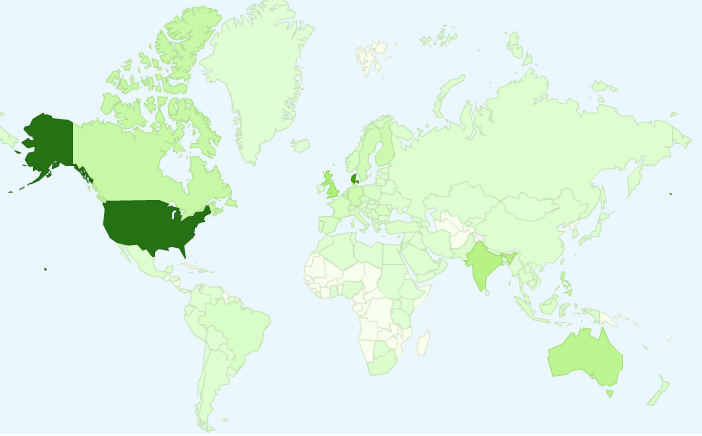 | | |
| --- | --- |
| 1. | |
| 2. | |
| 3. | |
| 4. | |
| 5. | |
| 6. | |
| 7. | |
| 8. | |
| 9. | |
| 10. | |
United States is still number one, when it comes to visitors at my blog. Denmark is still number two, but it is clear to me that it is the English speaking country is dominating this list. Not really a big surprise to me.
Conclusion on my Traffic Report
My traffic has been somewhat steady for the last 3 months. Not many changes despite the fact that I have not been that active in the period. I hope that I can find better time for the months to come to post interesting Technology posts.  Finally, I would love to hear how your blog has been doing for the last couple of months. Please drop me a comment below and share your own experiences.